CLUB VJ - BLACKKAT


Featuring Visuals by FICTIVE
KORRO-BOREE


Paul Clay of FICTIVE does live video mixing at THE LUNATARIUM
Saturday May 11th, 10:00pm to 4:00am.
Featuring, top-notch musical soundtrack by; DJ SATAMILE (Static, Satamile recordings) Electro & breaks PH10 (Terraform Records) Live sci-fi funk-n-bass from their new album "Quarks and Gluons"
---
THE B.I.O. TOUR 2003 KICKOFF PARTY!!


Sustainable Energy Now and Blackkat present... benefit for their upcoming U.S. tour in a vegetable oil-powered bus with a solar-powered sound system to promote sustainable energy.
FRIDAY, MARCH 28 10 PM - 6 AM 18+. 21 to drink $15/ $12 w/ flyer or list printout from Blackkat or 38nine
Location: 38NINE STUDIOS 38-09 31st Street, Long Island City, Queens Trains: take N or W to 39th Avenue/Beebe Street (2nd stop from Manhattan) 38nine is under the tracks right next to the stop. take E,G,R, or V to Queens Plaza walk north on Jackson/Northen Blvd 4 blocks to 31st Street. Turn left onto 31st. 38nine is up one block on the right side. driving directions and map at
38nine.com
www.blackkat.org
www.biotour.org
212-714-4987 3

---

TOYBOX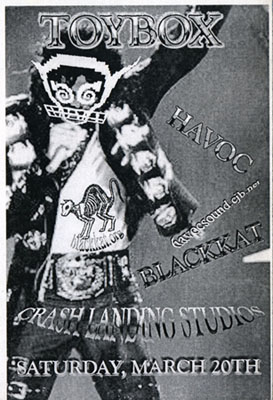 Blackkat
Havoc
Crash Landing Studios
Saturday, March 20th
---
KAT'S CRADLE


Free Event!
Blackkat
The Lunatarium
Saturday, November 1
---
MYSTERION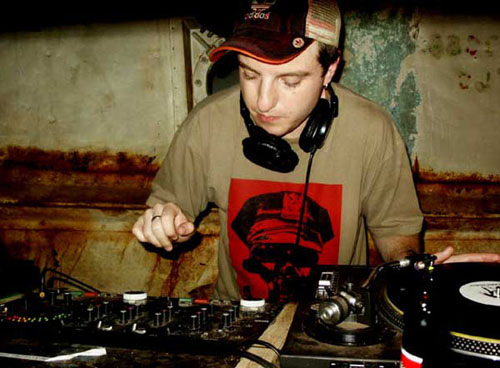 Blackkat and PH 10 presents:
aka the Ghost Ship aka The Black in Black Kat SATURDAY OCTOBER 30th
Building on five-year tradition of ass-kicking Halloween events BLACKKAT will be taking it back to one of our favorite party spots of all time-the Frying Pan. The Frying Pan is a lighthouse ship anchored to pier 63 (next to Chelsea peirs) with breathtaking views of the Hudson. With one sound system in the captains chambers and another in the hull of the boat this is one of the best sounding venues in the city. Blackkat will be bringing out all our best to make this another unforgettable Halloween!!
Featuring monster DJs and Live Acts in two rooms, DJs--JASON BK, CHROME, KAT-O, MIKO, CLARK OV SATURN LIVE AX--PH10, SOCKS AND SANDALS playing drum and bass, techno, hip hop, electro, house, and more... and the amazing CX KIDTRONIK and others will be spinning on the pier
Plus, breathtaking fire performance by the incredible and seductive MICHELLE SAVAGE of Englands INVISIBLE CIRCUS.
Also, we will feature more European festival talent with a great visual artist and projectionist named FACTORY TEST PROCESS from Infrabass Sound System in France.
He will be working with our own visual wizard PAUL CLAY to create fantastic environment in the hull.
We will also be having a sexy, scary, phreaked out costume contest to crown the best dressed freaks of the party, and to really encourage all of you to go all out with your costumes, this party will be ABSOLUTELY FREE to anyone in costume! (Special privileges to superheroes and rockstars)http://www.blackkat.org
DATE: Saturday October 30th 2004, TIME: 10 pm to 4 am
PLACE: the Frying Pan, the historic lighthouse ship salvaged from the watery depths. Pier 63 @ 23rd St. (behind Basketball City ) take any train to 23rd St. and walk all the way west or hop on the M23 bus to the last stop Chelsea Piers. Strictly over 21 with ID.